There are different ways to cash out your money in Gcash. You can withdraw your money either through the Gcash partner outlets (over the counter), via ATM (Gcash mastercard Holder), etc.
Where and How to cash out Gcash?
A. Through any BancNet or Mastercard Affiliated ATM
If you have a Gcash Mastercard, you can go to any BancNet or MasterCard affiliated ATM. To know if you can cash out to a particular ATM Machine, you need to find this logo.
How to withdraw money from the Gcash MasterCard?
To withdraw your money, you only need to get your card, insert it to the ATM, enter your MPIN and select withdraw. Choose " Savings Account". After successful withdrawal, you can now collect your money.
How much is the withdrawal Fee?
A P20 withdrawal transaction fee will be deducted to your account.
B.Cash Out via GCash Partner Outlets (Over the Counter)
If you don't have a Gcash Mastercard, you can opt to cash out your money via Gcash Partner Outlets.
Gcash Partner Outlets
Puregold
Robinsons Department Store
Posible
SM
Tambunting
TrueMoney
Villarica
How to Cash out via Partner outlets?
Go to any Gcash Partner outlets and inform them that you would like to Cash-Out of your GCash account.
Fill out the GCash Service Form. Indicate your GCash-registered mobile number and desired amount.
Present a valid ID.
Wait for an SMS confirming your Cash-Out. Reply with your MPIN to confirm.
Receive the cash from the cashier once you have confirmed.
C. Via Nearby Cash Out Counters
You can look for nearby GCash Partner outlets through the GCash App. To do so you must turn on your GPS and follow the following steps:
Step 1. On your dashboard, Click See more.
Step 2. Select Cash Out on the Fund Management Section.
After Clicking the Cash-out, you will see like the photo below.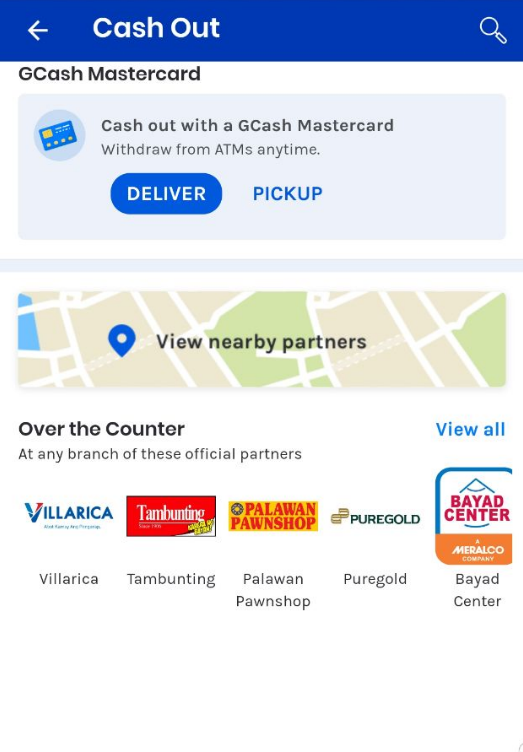 Step 3. Tap on View nearby partners

Step 3. You'll be able to find nearby cash-out outlets from your location(the orange pin is where you are). Tap on a blue pin to see the outlet's details.
There will be a 2% recurring fee for this type of cash out transaction.
Meanwhile, if you have a bank account connected to Gcash, you can transfer money to Gcash fro your Bank account.